Common World Ephemeris
Common Human Design Ephemeris
Your schedule for the Human Design System
The common Human Design World Ephemeris shows the most accurate daily program information. This Ephemeris enables you to follow the general movement of the planets daily. Comparing an individual Human Design Chart with the daily program, you see changes that affect each particular chart in its unique way. Additional you get in the printed version overview tables to see the movement of the planets over the next 5 years..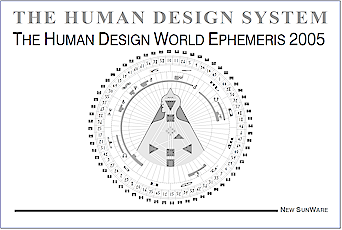 The Ephemeris exists as
online version
(2002 - 2021) in the Adobe PDF format and as an
edition
(2004 - 2017) as a clear reference book.
The print edition
The high-quality digital black/white print with durable wire binding costs between 15 and 40 Euro or between 16 and 48 US-Dollar plus 7% VAT for EU-countries plus 6,00 € shipping costs.
The online edition
The online version is in Adobe pdf format and can be looked at and (in a low resolution of 150 dpi) printed out with the

free Adobe Reader

. The colored diagrams, as well as the tables, can be scaled to any size.

The online ephemeris exists in 2 versions, the Europe and US edition. The Europe edition is relating to Greenwhich meantime and the US edition is relating to 10h west (HST)

The file will be provided online for the download