4.0

Neutrinos Through Windows

The Original-Software
for the Human Design System

Since 1993: Neutrinos Through Windows is the only tool that works effectively with the Human Design System.
Overview of the Human Design Program
Neutrinos is available in both different version and different module levels. Each version level builds on the lower capability level, bringing you more convenience and possibilities. Once you have reached the Bronze Edition Level, you may begin to add and integrate the specific Modules. This further extends Neutrinos' capabilities into areas of specialized interests that also meet the requirements of certain target groups.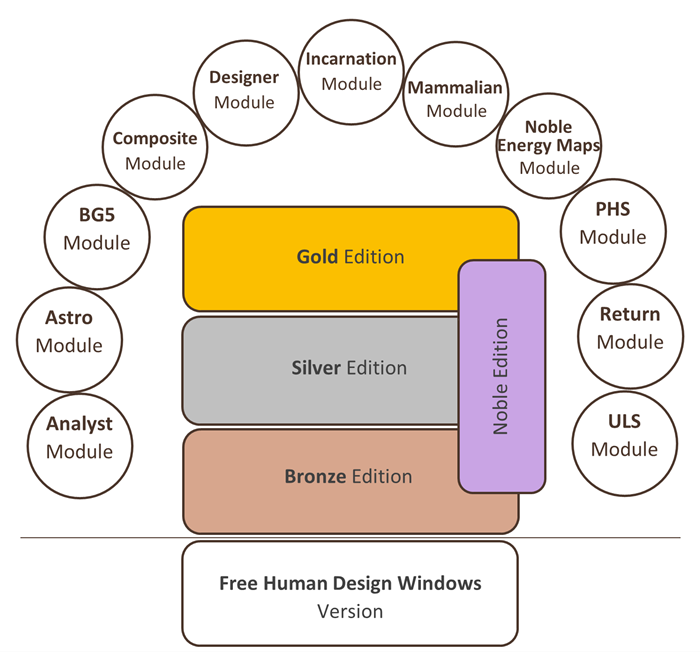 Versions
The basic structure of the version and module variety in Neutrinos is reflected in the fact that the
editions
represent version levels, which prepare both the comfort and the extent of the information preparation in different degrees. The higher the version/edition, the more detailed and convenient the HDS information.
A special edition is the
Noble Edition
, which represents a kind of mixture or alloy of all three basic versions (bronze, silver, gold) quasi as a
noble
or precious metal.
Modules
The Modules are all optional special themes that can be added to an edition, so they are all independent and separate from a version level or edition. That is, no module is included in any edition.
A higher edition/version may include some of the modules, such as the Chiron in the Gold Edition from the Astro, Return or Unified Life Sciences Module. Or the Solar from the Return Module.
But never the complete content of a module.
Neutrinos Through Windows is a software program that runs on Microsoft Windows (Windows 2000, NT, XP, Vista, 7, 8, 10) only. On a Mac you can install Windows in a PC-Emulation like i.e. Parallels, Virtual PC, Fusion etc. or as a parallel installation via Bootcamp.
The basic version
Free Human Design Windows Version
is completely free and requires only an individual activation.
For all other
version levels (Bronze to Gold Edition
an uncomplicated personal license is required that is managed through a own licensing server with individual customer account.
You can use the license for 3 different computers which you use for yourself only. Starting with the Bronze Edition, you can activate additional computers. Each additional computer activation costs 10% of the current license.
An offline license costs an additional 50% of the total license.
14 Days Free Life
With a new
New SunWare ID
all the functions of the different versions of Neutrinos Through Windows are available for
two weeks
.
During this time, you can select any of the versions and modules you want to use each time you start the Neutrinos program!

You can easily form an impression of the scope of the various versions and modules.

After this time an Edition/Version (except the

Free Human Design Windows Version

) is only accessible with an individual license. Internet access is required for licensing.
Neutrinos New Purchase of prices in Euro
Neutrinos New Purchase Prices in Dollar
Order
Download demo version